Additional Project Information
RFP 2022-001 Civic Center Furniture & Equipment

CIP Presentations

Bond Information Page

Civic Center

Center Island Pump Station

RFP 2021-001 Disaster Recovery Services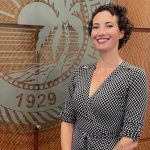 Lissett Rovira
Director of Capital Improvement Projects
Phone: (305)932-0744 ext. 242
Email: lrovira@goldenbeach.us
Department of Capital Improvement
The Capital Improvement Department is responsible for all infrastructure and facilities within the town limits. This includes all utilities, storm water systems, right-of-ways, sidewalks, existing buildings, and new construction. Duties of the Capital Improvement Department Include:
Coordination between all town departments to ensure projects are completed on-time, as specified & within budget.
Creation and management of various requests for proposals.
Acquisition, tracking, review and approval of project materials, specifications and funding requirements.
Coordination between the town and its vendors/contractors assigned to the department.
Provide conceptual design recommendations for improvements to the town's facilities.