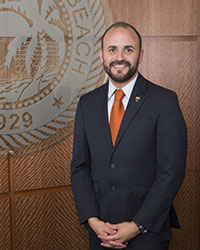 First and foremost I would like to extend my immense gratitude to the residents of Golden Beach for welcoming me to your town. The Town of Golden Beach is renowned for its beautiful mile and one-eighth of private beach with a historic beach and a committed sense of community, which have attracted talented, discerning residents from all over the world to our idyllic town. I am excited about the unique and challenging opportunities presented before me as we plan and build for the future of our Town.
In my first six months I will be working to enrich and fortify the town team to create a unified force in addressing all resident needs. Part of this team effort will include the establishing and implementing of new and improved policies that will govern town hall.  During these first six months, I will make it a priority to capture our historical past and preserve the Town's documented past well into the future.
Projects such as the A1A Sidewalk Endeavor, Storm Water Utilities and the Enhancement of our Open Spaces will take precedence as I begin my tenure as your new town manager.  Additionally, we will be undertaking the enhancement of our Town web site which will facilitate communication and information sharing.  Establishing an open line of communication with you, our residents, will be a key focus of my tenure.
In the long term we will be focusing our efforts on our joint capital and infrastructure needs.  This plan will detail the joint vision of our elected officials and citizenry for the town's beautification and preservation.
Thank you for entrusting me with the managing of your home, the Town of Golden Beach.
Your Manager,
Alexander Diaz